Acrobatic Gymnastics Tryout Results!
Thank you to everyone to came to our 2015-2016 Acrobatic Gymnastics Try Outs! We were happy to see lots of new faces, and we were very impressed with all the talent we saw! Below are the results...
Pre Team: 44, 47, 49, 50
Bronze Team: 18, 19, 24, 25, 43, 48
Silver Team: 3, 4, 5, 6, 9, 11, 12, 17, 20, 22, 23, 27, 28, 29, 32, 34, 35, 37, 38, 40, 42, 45, 46
Gold Team: 1, 8, 13, 14, 15, 21, 26, 30, 31, 33, 36
Diamond/International Track: 2, 7, 10, 16, 39, 41 (all other athletes currently on the international track will remain on the international track)
*Please note that if you and your athlete determine that the selected team involves too much time and commitment, you may choose any of the teams below the level to which you were selected. Also, these placements are not set in stone for the whole season. If an athlete shows great improvement over the summer, they have the option of re-trying out again at our September tryouts if they so choose. If you missed try outs, please contact us for an individual assessment by one of our coaches.
---
Our 2015 Summer Camp flyer has now been posted in our "Forms" section, and Registration is now open! Please fill out a form and fax it to 301-251-2116 to register.
---
CHECK OUT XTREME ACRO IN THE MEDIA!
https://www.youtube.com/watch?x-yt-ts=1421914688&x-yt-cl=84503534&v=pMQp-Dr5-Ws#action=share
http://www.mymcmedia.org/elite-acro-gymnastics-trio-trains-for-a-spot-on-world-stage-photos/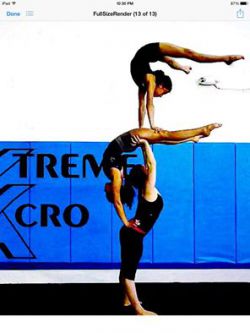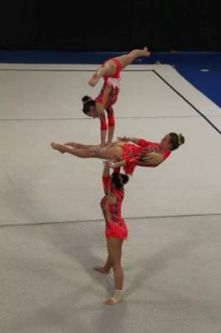 ---
We are now offering Parkour, Breakdancing and Hip Hop classes!
Check out our 2014-2015 updated class schedule under the forms tab!
---
Its Not To Late, If You Missed The Date! If you missed the Tryout date for our Acrobatics Team, you can still schedule an individual assessment with one of our coaches. Just call us at 301 251 5525 to make an appointment!
---
We are now hiring class instructors and tumbling instructors. Please call 301-251-5525 to schedule an interview.
---
EXCITING NEWS!
We have expanded our facility and now have over 11,000 sq ft of floor space including a new gymnastics spring floor! Our balcony parent viewing area has also doubled in size. Come check it out!
Now Conveniently Located at:
14702 Southlawn Lane
Rockville, MD 20850
Phone: 301-251-5525
Fax: 301-251-2116
Contact us at: xtremegym@verizon.net
---